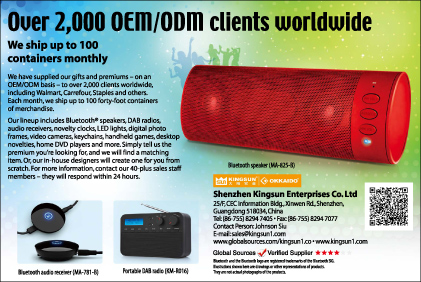 Share:




E-mail

Print

Bookmark
Shenzhen Kingsun Enterprises Co. Ltd

Follow me

Over 2,000 OEM/ODM clients worldwide

4 Star China (mainland)
More Information
Contact Details




Shenzhen Kingsun Enterprises Co. Ltd
25/F, CEC Information Bldg.
Xinwen Road
Shenzhen
Guangdong
China 518034
Tel: (86 755) 82947405
Fax: (86 755) 82947077


E-mail:

Homepage Address
http://www.globalsources.com/kingsun1.co
Other Homepage Address
http://www.kingsun1.com


Chat with supplier using:

Key Contact:
Mr Siu, Johnson
Director
Sales



Supplier and product information updated May 22, 2013.
Verified Business Registration Details
Registered Company: 深圳市大阳实业发展有限公司
Business Registration Number: 440301102884526
Company Registration Address: 深圳市宝安区福永街道重庆路美盛工业园主厂房东侧一三五楼


* In some jurisdictions, company names and addresses are registered in Chinese only.